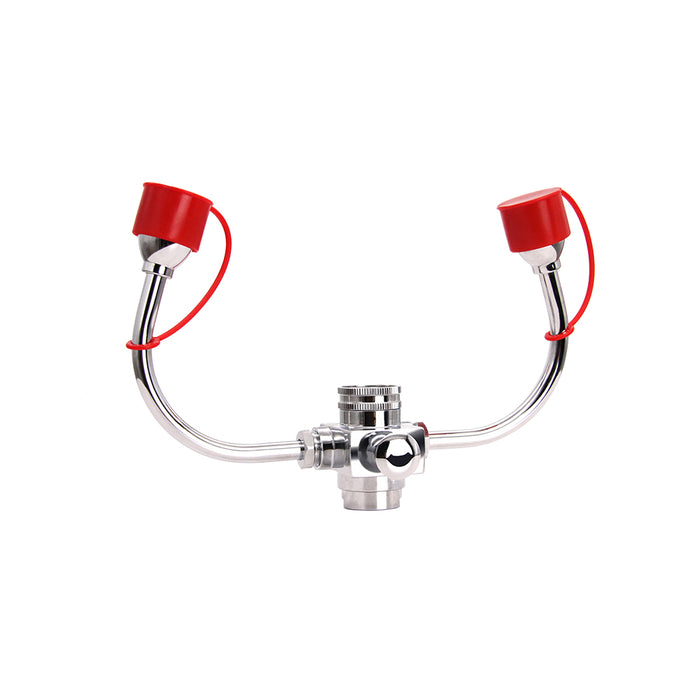 Spilldoc Faucet-mounted Eye Wash BD-507
Do you have any questions concerning this product?
Spilldoc Faucet-mounted Eye Wash BD-507 is used to quickly rinse the eyes in case of exposure to hazardous substances or foreign particles. They are typically found in laboratories, industrial facilities, and healthcare settings to provide immediate first aid for eye injuries. The faucets deliver a gentle flow of water to flush out the eyes, helping to minimize the potential damage or irritation caused by chemicals, dust, or other contaminants.
SPECIFICATION
Product name

Spilldoc Faucet-Mounted Eyewash BD-507

Brand

SPILLDOC

Model

BD-507

Certificate

CE, ISO

Standard

ANSI Z358.1-2014

Nominal Pressure


0.4

Sealing Pressure

0.45

Eye Wash Flow

≥11.4L/Min

Work  Pressure

0.2MPA-0.4MPA

Application Conditions

Pure water at normal temperature or water that meets sanitary standards

Material

304 stainless steel and ABS bowl

Using Environment

Laboratories and hospitals where there is a possibility of accidental spills and splashing of hazardous liquids such as acids and chemicals.

Special Note

If the acid concentration is too high, recommend using 316 stainless steel.
When using ambient temperature below 0℃, use antifreeze eye wash.
Installation Notes
1) First install the faucet on the wash basin or countertop, connect the water pipe, and then connect the eyewash and the faucet.
2)Adjust the nozzle angle of the eye wash, turn on the faucet switch, and check the condition of each water outlet and whether the switch handle is flexible.
Failure and Troubleshooting
If the nozzle is not flowing smoothly, please use the special tool attached to the product to disassemble and clean the nozzle filter.

If the problem cannot be solved, please contact our company after-sales service. 

Stocks are available, subject to prior sales. Always check with us on the latest stock availability to avoid any delays in the purchase decision.
If you're a reseller or considering a bulk purchase quantity, you may request for a special quote. Kindly send us an email at sales@spilldoc.sg or fill up the inquiry form and will get back to you within 1 working day.
Free delivery for an order valued at SGD 200 and above in mainland Singapore only excluding Jurong Island, Sentosa, and Ports. Otherwise, delivery charges based on the product types are applicable.