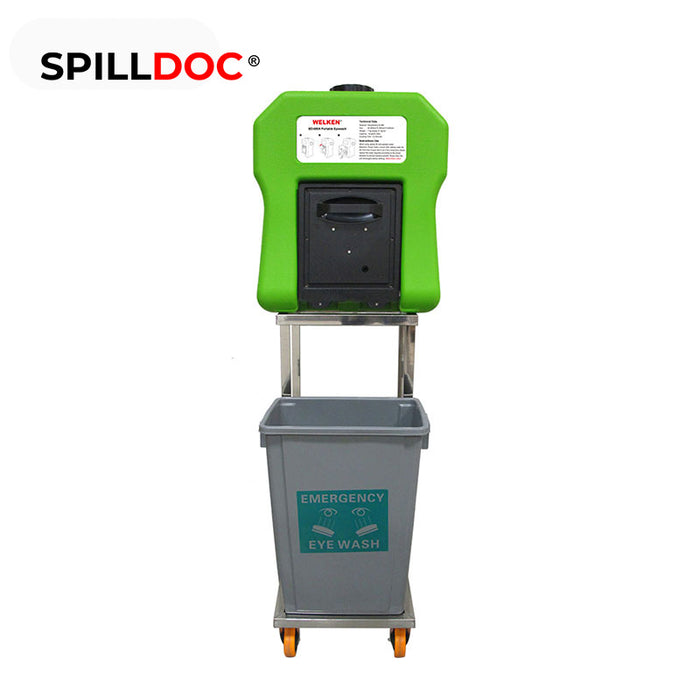 Spilldoc Gravity Fed Portable Eyewash with Trolly 35 Litres BD-600B
Do you have any questions concerning this product?
Spilldoc Gravity Fed Portable Eyewash with Trolly 35 Litres
Model No: BD-600B
Compliance: ANSI/ISEA Z358.1-2014, CNSI14251 T2048-1998, DIN 12899
Warranty: 1 Year from product supply against manufacturing defects
Features
Tank Volume: 35 Litre
Material: HDPE, Anti UV & Flame Resistance
Portable, Can be mounted on a wall or a trolly
Suitable for outdoors and relocation purposes
Portable Eye Wash BD-600B is used to temporarily slow down the further harm of harmful substances to the body, face, and eyes of the staff when toxic and harmful substances (such as chemical liquid, etc.) are splashed on the staff's body, face and eyes or the fire cause the staff's clothes to catch fire. Further treatment and treatment need to follow the doctor's guidance to avoid or reduce unnecessary accidents.
External Dimensions: Water tank W 540mmm * D 300mm * H 650mm
Car Dimensions: Height 1000mm, width 400mm, Thickness 580mm, With two wheels, car body is made of 201 stainless steel
Water Storage: 60L
Flushing Time ≥15 minutes continuously
Original Water: Drinking water or saline, and pay attention to the quality guarantee period                                       
Using Environment: Places that have no water supply.
This portable eye wash is made of polyethylene, safe green, and suitable for use in a place without a water supply, please use drinking or filtered water or saline. And pay attention to regular cleaning, after cleaning refilled with drinking water or saline.
Standard: ANSI Z358.1-2014
Use our Spilldoc Gravity Fed Portable Eyewash with Trolly for an immediate response to remove toxic or harmful substances from your eyes or face. Our Model BD-600B comes with additional upper and lower brackets to support the load when mounted on the wall. It can also be placed on top of a desk without a bracket.

Should an accident involving chemicals or regents occur in a laboratory or a workplace, it is extremely important to immediately flush out the harmful substances from our bodies.  The first 10 to 15 seconds after exposure to a hazardous substance such as corrosive substances are very critical for the personal safety of an individual.
Accidental chemical exposures can still occur even with good engineering controls and safety precautions. As a result, it is essential to look beyond the use of goggles, face shields, and procedures for using personal protective equipment. Emergency showers and eyewash stations are a necessary backup to minimise the effects of accident exposure to chemicals.
Stocks are available, subject to prior sales. Always check with us on the latest stock availability to avoid any delays in the purchase decision.
If you're a reseller or considering a bulk purchase quantity, you may request for a special quote. Kindly send us an email at sales@spilldoc.sg or fill up the inquiry form and will get back to you within 1 working day.
Free delivery for an order valued at SGD 200 and above in mainland Singapore only excluding Jurong Island, Sentosa, and Ports. Otherwise, delivery charges based on the product types are applicable.