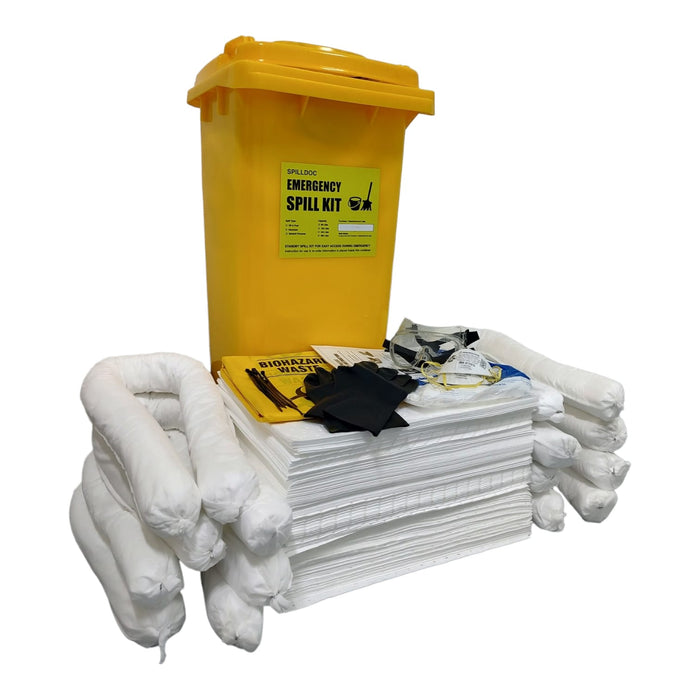 Spilldoc 120 Litre Oil Spill Kit
Do you have any questions concerning this product?
Spilldoc 120 Litre Oil Spill Kit
 Contents
8 units x Oil Absorbent Boom 1.2m x 76mm
100 units x Oil Absorbent Pads 200 gsm
8 units x Biohazard Waste Bags & Ties
2 units x Safety Goggles
2 Pair x Oil Resistant Gloves
2 units x Full Body Coverall with Hood
2 units x N95 Mask
1 unit x 120L Spill Bin with Wheels, Yellow Lid
1 pcs x Spill Kit Instruction Sheet
Use our Oil Spill Kit 120L to control and clean up medium size spillages involving oil, fuel, diesel, petrol, solvents & other petroleum products. Oil spillages have to be responded to as soon as possible for the safety of workers and the protection of the environment. SPILLDOC® Spill Kits are packed with absorbent pads, socks, and PPEs to help you clean up fast and to comply with regulations.
These self-contained kit stores sorbent products for easy access as needed for spill control. It saves time when a quick response is necessary. Easy handling and tough nylon bag provide sealed and secure closure to protect sorbents from moisture, dirt, and damage.
With an absorbent capacity of up to 120 liters of the spill, our Oil Spill kit is a perfect solution as an emergency spill response solution required for medium oil spillages. It can be used at construction sites, oil fields, trucks and buses, mechanical workshops, factories, and more. In addition, these handy clean-up kits provide a complete solution to accidental spills of oil or fuel on the water. These kits can be stored on board the ship or at a strategic location in a marina or on a dock.
If you don't see what you're looking for, we can also customize our Oil Spill Kit to your exact specifications including the container, its contents, and accessories.
Stocks are available, subject to prior sales. Always check with us on the latest stock availability to avoid any delays in the purchase decision.
If you're a reseller or considering a bulk purchase quantity, you may request for a special quote. Kindly send us an email at sales@spilldoc.sg or fill up the inquiry form and will get back to you within 1 working day.
Free delivery for an order valued at SGD 200 and above in mainland Singapore only excluding Jurong Island, Sentosa, and Ports. Otherwise, delivery charges based on the product types are applicable.