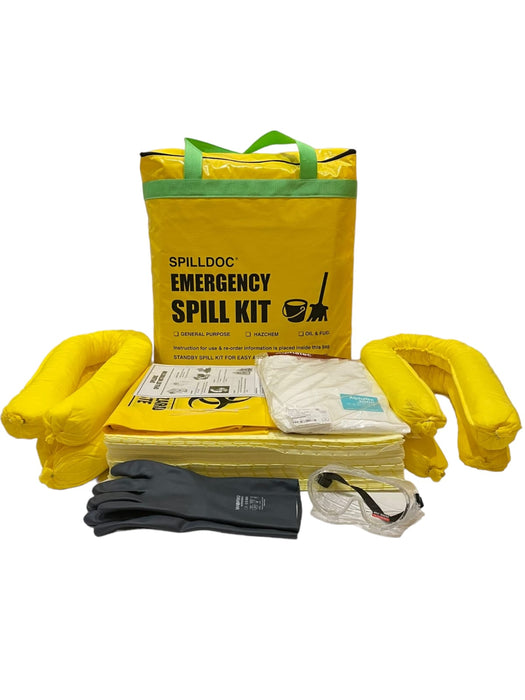 Spilldoc 40 Litre Chemical Spill Kit
Do you have any questions concerning this product?
Spilldoc 40 Litre Chemical Spill Kit
Contents
4 units x Chemical Absorbent Boom 1.2m x 76mm
35 units x Chemical Absorbent Pads 200gsm
4 units x Biohazard Waste Bags & Ties
1 unit x Safety Goggles
1 Pair x Chemical Resistance Gloves
2 units x Disposable Splash Proof Apron
1 unit x 40L Nylon Spill Kit Bag
1 pcs x Spill Kit Instruction Sheet

APPLICATIONS
Light-weight, pre-cut pads used for absorbing leaks, drips, and spills

Chemically inert pads specifically designed for hazardous and aggressive fluids spillage

Place pads around machinery, under leaky pipes of fittings, in messy traffic areas, or anywhere you need to ensure your facility is clean, safe, and compliant

Also ideal as wipes for daily maintenance and repair operations to remove unwanted working fluids on machinery and equipment

Ideal for environments where hazardous chemicals and aggressive fluids are involved
COMMON LIQUIDS ABSORBED
| | |
| --- | --- |
| Aggressive Chemicals & Hazardous Fluids | Acids & Bases |
| Sodium Hydroxide | Oil & Solvents |
| Water based fluids | Battery Acids |
Use Our Chemical Spill Kit 40L to control and contain small spillages involving corrosive chemicals, acids, bases, coolant, and other hazardous liquids. Often used in laboratories and workplaces handling chemicals, our chemical spill kit also absorbs oil, water, and coolants making it a perfect solution to thoroughly clean any type of unknown spills.
Spills happen no matter how hard you try to avoid them. Forklifts knock over drums, tanks are punctured and transporters leak and drip. It is important to have the right sorbents on hand when these spills occur to eliminate the slip-and-fall hazard. A quick response is the first order of business and your best weapon in the fight against spills. SPILLDOC® Spill Kits are packed with quality absorbent pads, socks, and PPEs to help you clean up fast and comply with regulations.
The sorbents you need for emergency chemical response are all inside the Chemical Spill Kit 40L bag. This includes a variety of sorbents to handle nearly any type of caustic, hazardous, or unknown spill — including acids, bases, solvents, and chemicals; pre-packed in 40 Litre heavy-duty nylon spill kit bag. Appropriate PPEs such as chemical-resistant gloves, splash-proof goggles as well as disposal waste bags are provided for proper disposal.
These self-contained kit stores sorbent products for easy access as needed for spill control; which saves time when a quick response is necessary. Easy handling and a tough Bag provide a sealed and secure closure to protect sorbents from moisture, dirt, and damage. Rust- and corrosion-free 100% Water Resistance which is durable to withstand rough handling
If you don't see what you're looking for, we can also customize a Spill Kit to your exact specifications, including the container, its contents, and accessories.
Stocks are available, subject to prior sales. Always check with us on the latest stock availability to avoid any delays in the purchase decision.
If you're a reseller or considering a bulk purchase quantity, you may request for a special quote. Kindly send us an email at sales@spilldoc.sg or fill up the inquiry form and will get back to you within 1 working day.
Free delivery for an order valued at SGD 200 and above in mainland Singapore only excluding Jurong Island, Sentosa, and Ports. Otherwise, delivery charges based on the product types are applicable.