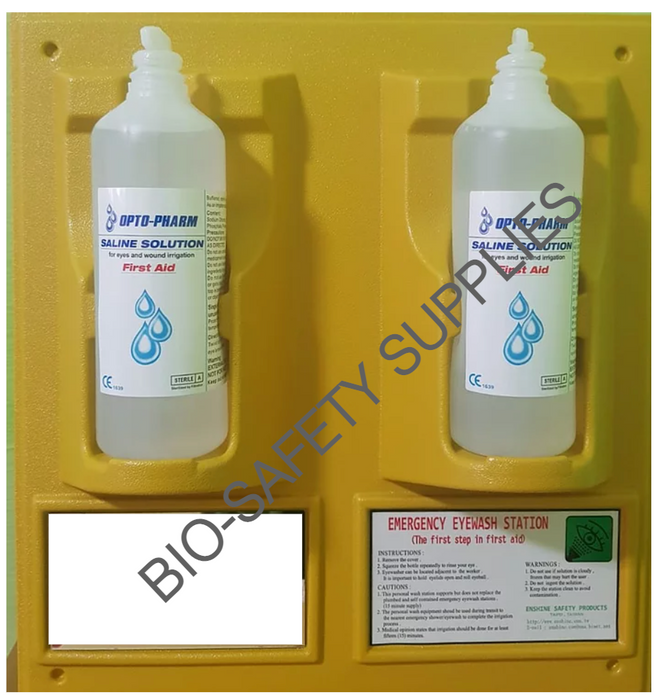 Double Mounted Personal Eyewash Station EEW-First 2
Do you have any questions concerning this product?
Double Mounted Personal Eyewash Station EEW-First 2
Model: EW-First 2
Type: Double Mounted Eyewash Bracket with Saline Bottle
Bracket Material: ABS Plastic Material
Product Features
The bracket holds the bottle firmly and it can be dismounted easily whenever required.
Saline solution can be easily replaced after use.
The bracket comes with a mirror allowing the user to clean their eye or face without having the need some assistance.
​1. Easy to install: Choose a suitable place and use hardware like screws to mount on the wall.
​2. Convenient to use: The special setting base can be easy to take off eyewash bottles. Once open the bottle top, it can be used right away. This unit provides first aid for emergency accidents.
​3. Simple to operate: Clear and visible Operation instruction sign and symbol on both setting base and eyewash bottle, it is easy to read and operate.
Use our Double Mounted Personal Eyewash Station for an immediate response to remove toxic or harmful substances. Eyewash with saline bottles works best in workplaces where space is limited. The saline solution works as first aid during an emergency where chemicals or unidentified substances need to be flushed out immediately from the eyes.

Stocks are available, subject to prior sales. Always check with us on the latest stock availability to avoid any delays in the purchase decision.
If you're a reseller or considering a bulk purchase quantity, you may request for a special quote. Kindly send us an email at sales@spilldoc.sg or fill up the inquiry form and will get back to you within 1 working day.
Free delivery for an order valued at SGD 200 and above in mainland Singapore only excluding Jurong Island, Sentosa, and Ports. Otherwise, delivery charges based on the product types are applicable.