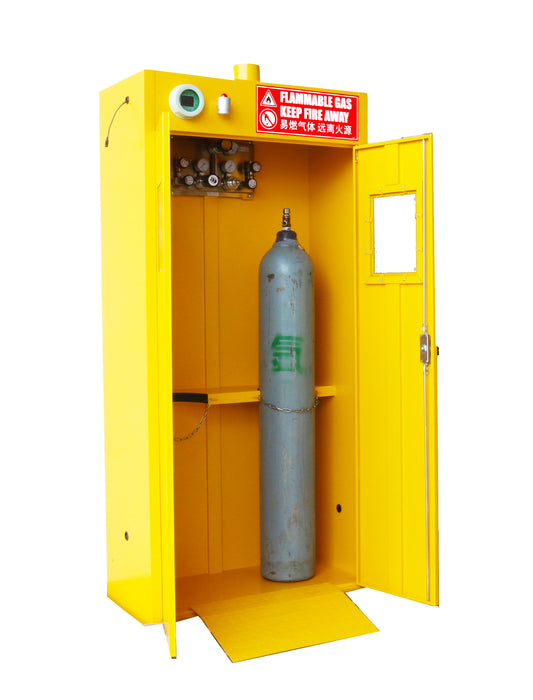 Gas Cylinder Storage Cabinet 2 Cylinders
Do you have any questions concerning this product?
SAI-U® Gas Cylinder Storage Cabinet is exclusively used for the storage of dangerous combustible gas cylinders. It is equipped with a professional adjustable gas detection and control system so that users can adjust the threshold value of gas concentration for alerts. The chimney on the top can be connected to the external ventilation system, working with the signal from the detection and control system to achieve a ventilation effect. There are 2 models available: two-cylinder cabinet and three-cylinder cabinet.
SPECIFICATION
| | |
| --- | --- |
| Model No | GC0002Y |
| Description | Gas Cylinder Storage Cabinet 2 Cylinders |
| Number of Placed Cylinders | 2 |
| Internal Dimension (H*W*D/mm) | 1700*898*425 |
| External Dimension (H*W*D/mm) | 1900*900*450 |
| Packing Dimension (H*W*D/mm) | 2150*1000*560 |
| Concentration of gas detection | Adjustable |
| Alarm device type | Sound & Light |
| Colour | Yellow |
| Door Type | Manual |
| Gross Weight (Kgs) | 133 |
Stocks are available, subject to prior sales. Always check with us on the latest stock availability to avoid any delays in the purchase decision.
If you're a reseller or considering a bulk purchase quantity, you may request for a special quote. Kindly send us an email at sales@spilldoc.sg or fill up the inquiry form and will get back to you within 1 working day.
Free delivery for an order valued at SGD 200 and above in mainland Singapore only excluding Jurong Island, Sentosa, and Ports. Otherwise, delivery charges based on the product types are applicable.