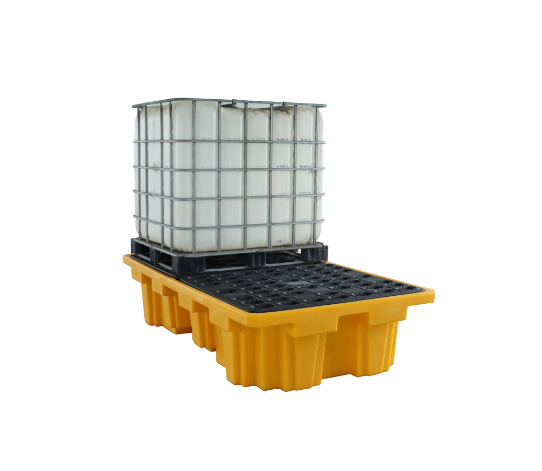 Double IBC Spill Pallet IBC020
Do you have any questions concerning this product?
Double IBC Spill Containment Pallet is made of 100% polyethylene material and is integrally formed with a rotational molding production flow to ensure quality and international standards.
Compliance - EPA 40 CFR 264.175
It has characteristics of acid and alkali resistance, corrosion resistance, and weather resistance.
IBC Pallets are effectively used to prevent the hazards caused by the leakage of chemical liquids in bulkier containers such as IBC containers and are suitable for the sub-packaging, storage, and transportation of medium-sized container containers.
It is used for secondary leak-proof storage of chemical storage containers to avoid splashing or leaking during packaging or storage Containment pallets are also suitable for the anti-spill treatment of medium-sized containers; suitable for anti-leakage packaging and storage and transportation of most medium-sized containers.
 PRODUCT FEATURES
In the line with EPA 40 CFR 264.175 requirements

Linear low-density polyethylene (LLDPE) construction resists UV rays, rust, corrosion, and chemicals

Nestable design permits stacking when not in use; lowers the cost of bulk shipping

4 Way forklift access to make handling and moving as easy as possible

All-polyethylene construction will not rust or corrode

The strongest standard pallet you can buy for everyday drum storage

Strong enough for long-term storage of Drum's liquids, this innovative design transfers weight to load-bearing channels to maximize capacity
SPECIFICATION

Model
IBC020
Product Description
Double IBC Spill Pallet
No of Containers
2 X 1000L IBC Tank
External Dimension
(H x W x D) /mm
2200 x 1300 x 500mm
Sump Capacity (L/US Gal)
1100L / 290 US Gallon
Static Load (Kg)
4000
Dynamic Load (Kg)
2000
Material
LLDPE
G.W (Kg)
92
Colour
Yellow
Drain Plug
Yes
Approval
CE
Stocks are available, subject to prior sales. Always check with us on the latest stock availability to avoid any delays in the purchase decision.
If you're a reseller or considering a bulk purchase quantity, you may request for a special quote. Kindly send us an email at sales@spilldoc.sg or fill up the inquiry form and will get back to you within 1 working day.
Free delivery for an order valued at SGD 200 and above in mainland Singapore only excluding Jurong Island, Sentosa, and Ports. Otherwise, delivery charges based on the product types are applicable.