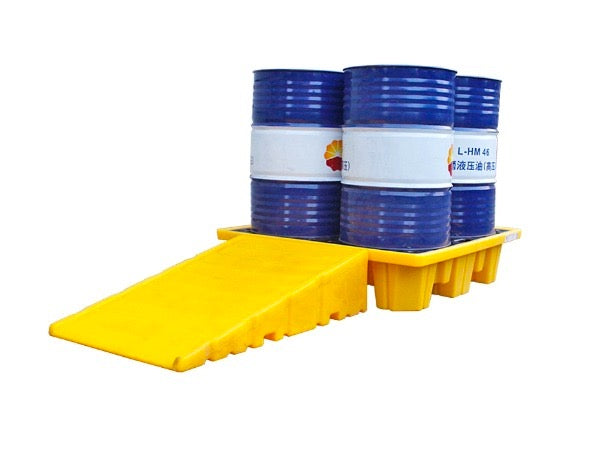 Drum Spill Pallet Ramp 300mmH
Do you have any questions concerning this product?
DRUM SPILL PALLET RAMP

SPILLDOC supply of high-quality spill control products, to protect for the employees and the environment. 
Comply with (EPA) EPA 40 CFR 264.175 & SPCC standards (NPDES)
 Product Features
• Thicker side border and central load-bearing structure are very strong, and can firmly carry fully loaded oil drums, chemical barrels, and other storage containers and equipment.
• Polyethylene material, anti-UV, anti-rust, anti-corrosion, suitable for most chemicals
• Orange anti-skid gratings, it will not rupture at full load, and the gratings are removable, easy for rapid treatment of liquid spill.
• Help to keep the floor dry to avoid slip and fall
• Help to keep the environment clean, ensure orderly storage, and leakage prevention of oil drums and chemical barrels.
• In line with the regulations of EPA 40 CFR 264.175 of the U.S. Environmental Protection Agency (EPA) and the regulations of the Spill Prevention and Control Act (SPCC) as well as U.S. NPDES.
Stocks are available, subject to prior sales. Always check with us on the latest stock availability to avoid any delays in the purchase decision.
If you're a reseller or considering a bulk purchase quantity, you may request for a special quote. Kindly send us an email at sales@spilldoc.sg or fill up the inquiry form and will get back to you within 1 working day.
Free delivery for an order valued at SGD 200 and above in mainland Singapore only excluding Jurong Island, Sentosa, and Ports. Otherwise, delivery charges based on the product types are applicable.