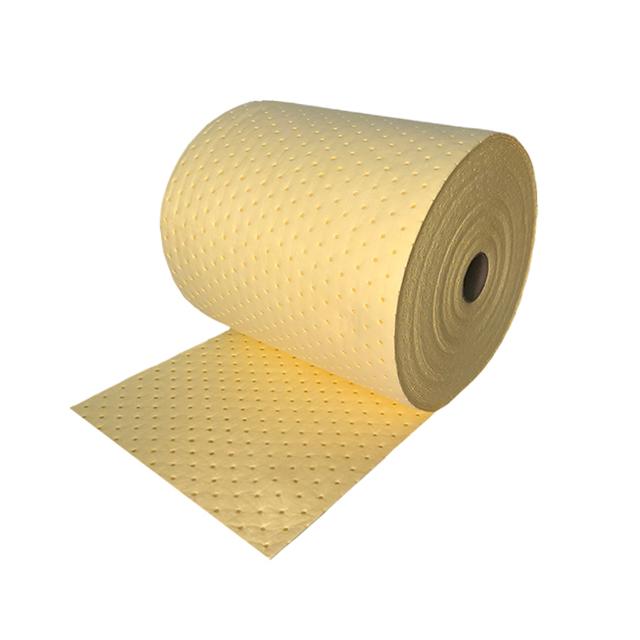 Spilldoc Chemical Absorbent Roll 50m x 1m
Do you have any questions concerning this product?
Spilldoc Chemical Absorbent Roll 50m x 1m
Dimensions: 50m x 1m
Packing: 1 Roll
PRODUCT FEATURES
Absorb strong acid, strong base, solidifying liquid, and other unknown liquids.

​Hazchem absorbent pads have been designed to help personnel manage acid, base, or unknown liquid spills safely with minimal waste and clean-up time.

Characteristic- Dimpled & Laminated with spun-bond fabric.

Color-coded yellow easy identification

Our chemical (Hazchem) absorbents are inert and will not degrade or chemically react with absorbed liquids.

Note: Ideal for use with battery acid but not compatible with higher concentrations of sulfuric acid.
APPLICATION
Usable for any indoor, outdoor, and/or hazmat application.

Ideal for potential high-capacity spillages or catching persistent point-leakages (e.g. collection, reservoirs, and troughs, underneath pipelines or valve openings of machines where potential spill surge occurs).

Pillows can also be placed under Spill Containment Pallets for easy clearing of drips and leaks from storage containers above the pallets.
COMMON LIQUIDS ABSORBED
| | |
| --- | --- |
| Aggressive Chemicals & Hazardous Fluids | Acids & Bases |
| Sodium Hydroxide | Oil & Solvents |
| Water based fluids | Battery Acids |
Spilldoc Chemical Absorbents also known as Hazchem absorbents are ideal for cleanup and maintenance of the inevitable leaks, drips, and spills involving strong acids, bases, and any unidentified liquids. These liquid-thirsty absorbent pillows are ideal for use at industrial facilities, workshops, warehouses, factories, hospitals, laundries, and laboratories. 
Absorbent Pillows have higher capacity, larger surface area, and great capillary abilities to soak up fluids quickly. 
Tough, chemical-resistant polypropylene cover resists chemicals and tearing and holds fluids within, even when saturated.
Color-coded yellow for easy identification, our chemical absorbents are inert and will not degrade or chemically react with absorbed liquids. 
Stocks are available, subject to prior sales. Always check with us on the latest stock availability to avoid any delays in the purchase decision.
If you're a reseller or considering a bulk purchase quantity, you may request for a special quote. Kindly send us an email at sales@spilldoc.sg or fill up the inquiry form and will get back to you within 1 working day.
Free delivery for an order valued at SGD 200 and above in mainland Singapore only excluding Jurong Island, Sentosa, and Ports. Otherwise, delivery charges based on the product types are applicable.