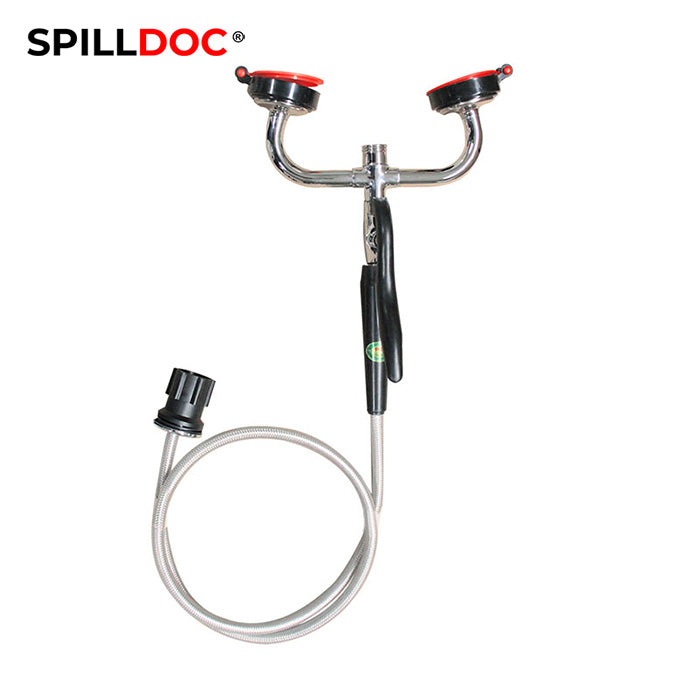 Spilldoc Counter Mounted Drench Hose with dual nozzles BD-504
Do you have any questions concerning this product?
Spilldoc Counter Mounted Drench Hose with dual nozzles

Model No: BD-504
Material: 304SS
Standard: ANSI Z358.1-2014
Warranty: 12 Months from product supply against manufacturing defects
Features
Switch: Water flow starts within 1 second, easy to use.   
Eye Wash Flow ≥11.4 L/Min
Height: 300 mm from mesa
The eye wash station with its delicate design is suitable for emergency washing in medical, laboratory, and some public places. The main body is thick copper, the coating uses high-brightness thick plating, corrosion resistance, heat resistance, and anti-ultraviolet radiation.
Use our Counter Mounted Drench Hose BD-504 for an immediate response to remove toxic or harmful substances from your eyes or face. It can be mounted side of the sink such that when pulled down from sideways, water flows automatically and comes down into the sink.
Should an accident involving chemicals or regents occur in a laboratory or a workplace, it is extremely important to immediately flush out the harmful substances from our bodies.  The first 10 to 15 seconds after exposure to a hazardous substance such as corrosive substances are very critical for the personal safety of an individual.
Accidental chemical exposures can still occur even with good engineering controls and safety precautions. As a result, it is essential to look beyond the use of goggles, face shields, and procedures for using personal protective equipment. Emergency showers and eyewash stations are necessary backups to minimize the effects of accident exposure to chemicals.
SPECIFICATION
Product name

Counter Mounted Drench Hose with Dual Nozzles BD-504

Brand

SPILLDOC

Model

BD-504

Certificate

CE, ISO

Standard

ANSI Z358.1-2014

Valve

Eye wash valve is made of 1/2" 304 stainless steel ball valve


Waste

1 1/4" MNPT

Eye Wash Flow

≥11.4L/Min

Hydraulic Pressure

0.2MPA-0.6MPA

Original Water

Drinking water or filtered water

Material

304 stainless steel and ABS bowl

Using Environment

Laboratories and hospitals where there is a possibility of accidental spills and splashing of hazardous liquids such as acids and chemicals.

Special Note

If the acid concentration is too high, recommend using 316 stainless steel.
When using ambient temperature below 0℃, use antifreeze eye wash.
Stocks are available, subject to prior sales. Always check with us on the latest stock availability to avoid any delays in the purchase decision.
If you're a reseller or considering a bulk purchase quantity, you may request for a special quote. Kindly send us an email at sales@spilldoc.sg or fill up the inquiry form and will get back to you within 1 working day.
Free delivery for an order valued at SGD 200 and above in mainland Singapore only excluding Jurong Island, Sentosa, and Ports. Otherwise, delivery charges based on the product types are applicable.