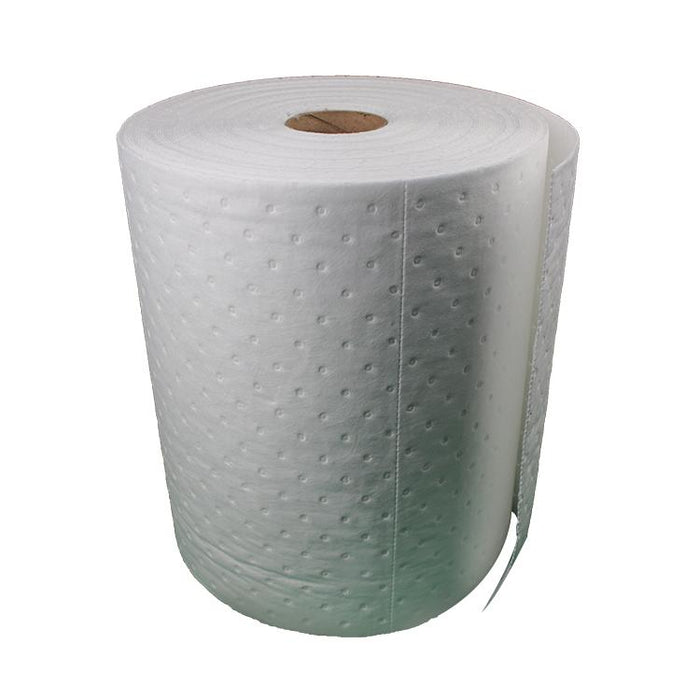 Spilldoc Oil Absorbent Roll 200gsm 50m x 50cm
Do you have any questions concerning this product?
Spilldoc Oil Absorbent Roll 200gsm 50m x 50cm
Dimensions: 50m x 50cm
Packing: 1 roll
PRODUCT FEATURES
Description Economical Melt Blown mat for effective oil response.

Best performing mat on water due to fast-wicking fibers.

Highly absorbent Melt Blown polypropylene mat repels water and soaks up only oil and oil-based fluids.

Floats even when completely saturated, are most effective for marine spills.

Won't fall apart even when fully saturated

Bright white color makes it easy to locate in spill emergencies

 Provides a quick and efficient cleanup to help protect the environment from contaminants. Suited for short-term use.

Color-Coded- White

Color coding helps you visually identify the right sorbent for your needs. White designates Oil-Only absorbency and makes it easy to identify when saturated.

Absorb hydraulic oil, engine oil, brake fluid, edible oil, turpentine, diesel, jet, and fuel. The oil cushion series are smooth, soft, and lint-free, and perforation helps reduce waste.
APPLICATION
Usable for any indoor, outdoor, and/or oil and fuel application.

Ideal for potential high-capacity spillages or catching persistent point-leakages (e.g. collection, reservoirs, troughs, underneath pipelines, or valve openings of machines where potential spill surge occurs).

Pillows can also be placed under Spill Containment Pallets for easy clearing of drips and leaks from storage containers above the pallets.
COMMON LIQUIDS ABSORBED
| | |
| --- | --- |
| Drilling & Cutting Fluids | Oil-Based Plants & Solvents |
| Gasoline, Diesel & Fuels | Hydraulic & Brake Fluids |
| Engine Oil & Transmission Fluids | Lubricants |
 
Use our Oil Absorbent roll 200gsm 50m x 50cm to control and clean up small spillages involving oil, fuel, diesel, petrol, solvents & other petroleum products. For the safety of workers and the protection of the environment, it is important to respond to oil spillages as quickly and efficiently as possible.
With an absorbent capacity of up to 72 liters per roll, our Oil absorbent roll are the perfect solution as an emergency spill response solution is required for small to large spillages. It can be used at construction sites, oil fields, trucks and buses, mechanical workshops, factories, and more. 
Stocks are available, subject to prior sales. Always check with us on the latest stock availability to avoid any delays in the purchase decision.
If you're a reseller or considering a bulk purchase quantity, you may request for a special quote. Kindly send us an email at sales@spilldoc.sg or fill up the inquiry form and will get back to you within 1 working day.
Free delivery for an order valued at SGD 200 and above in mainland Singapore only excluding Jurong Island, Sentosa, and Ports. Otherwise, delivery charges based on the product types are applicable.