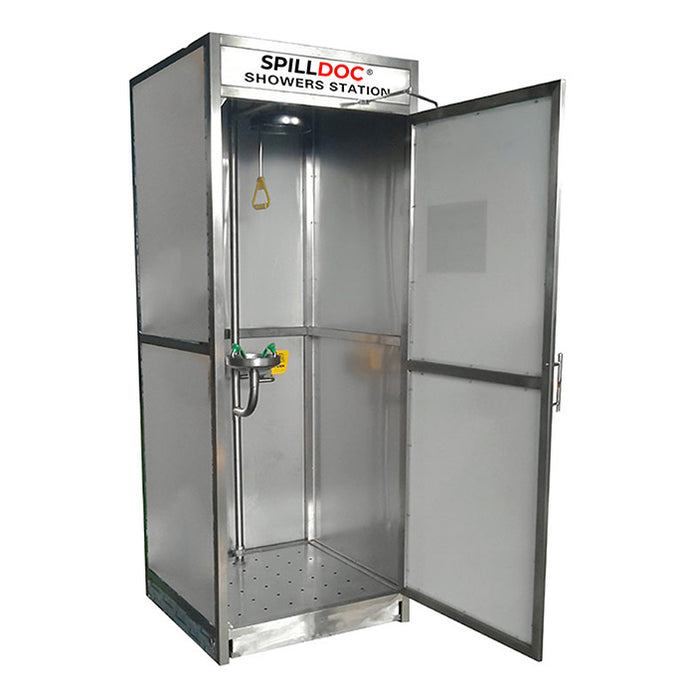 Spilldoc Rapid Response Enclosed Decontamination Safety Shower Booth BD-602
Do you have any questions concerning this product?
Spilldoc Rapid Response Enclosed Decontamination Safety Shower Booth
BD-602
Model: BD-602
Material: 304 Stainless Steel / ABS
Type: Push / Pull Door Type
Compliance: ANSI/ISEA Z358.1-2014, CNSI14251 T2048-1998, DIN 12899
Brand: Spilldoc
Warranty: 1 Year from product supply against manufacturing defects

TECHNICAL DATA
Shower Valve: 1" 304 stainless steel ball valve
Eye Wash Valve: 1/2" stainless steel ball valve
External Dimensions: W900mm*D1200mm*H2500mm
Head: 10" stainless steel
Eye Wash Nozzle: Green ABS spraying with 10" ABS waste water recycle bowl
Supply: 1 1/4″ MNPT 
Waste: 1 1/4″ FNPT     
Eye Wash Flow ≥11.4 L/Min, shower flow≥75.7 L/Min
Hydraulic Pressure: 0.2MPA-0.8MPA
Original Water: Drinking water or filtered water
Using Environment: Places where has hazardous substance splashing, such as chemicals, hazardous liquids, solid, gas and so on.
Special Note: If the acid concentration is too high, recommend to use 316 stainless steel.
Rapid Response Enclosed Decontamination Safety Shower Booth BD-602 is designed for special environments, it not only can be used for body wash, eye wash, waste water recycling and do not pollute the environment. It also can keep out of privacy and very suitable for clean environment and the special requirements of the environment and can be added antifreeze function according to customer's requirements , beautiful and clean.
Combination showers provide instant access to a safety shower and or an emergency eyewash in one location. Besides, the curtain gives the user privacy and prevents water splashing out into the surrounding area.
Stocks are available, subject to prior sales. Always check with us on the latest stock availability to avoid any delays in the purchase decision.
If you're a reseller or considering a bulk purchase quantity, you may request for a special quote. Kindly send us an email at sales@spilldoc.sg or fill up the inquiry form and will get back to you within 1 working day.
Free delivery for an order valued at SGD 200 and above in mainland Singapore only excluding Jurong Island, Sentosa, and Ports. Otherwise, delivery charges based on the product types are applicable.